North of Thursday...

The islands of the Torres Strait (including Thursday Island), emerge out of the water beyond the tip of Australia's northern point. This is a tropical paradise where time is slow, the water is warm and the foilage is lush.
Synopsis
The Kasa Por Yarn (Just for a story) project was devised by Queensland Health as part of a multi-pronged strategy to develop and promote positive health messages for Aboriginal and Torres Strait Islander communities in northern Queensland. Kasa Por Yarn was a 12-part radio play broadcast throughout the Torres Strait. Input from the local community was an integral component of the project, and Kasa Por Yarn was very fortunate to have Aaron Fa'aoso on board in the role of cultural consultant and artistic advisor.
Production History
A workshop was held on Thursday Island in June 2009. The script was subsequently developed with input coming from communities on Thursday Island and in the Northern Peninsula Area (NPA) including those in Injinu, Seisia and Bamaga, as well as cultural and creative consultant Aaron Fa'aoso and Queensland Health professionals.
Auditons subsequently took place in the NPA and on Thursday Island, and recording took place on Thursday Island in November 2009, with sound engineer Nigel Pegrum. Nigel then edited the plays in his Pegasus Studio facility in Cairns.
The plays were launched on Thursday 15 April 2010 and subsequently broadcast on radio station 4MW on Thursday Island.


Kasa Por Yarn has a large following on Facebook, and also has its own webpage where you can download episodes of the play.




Recording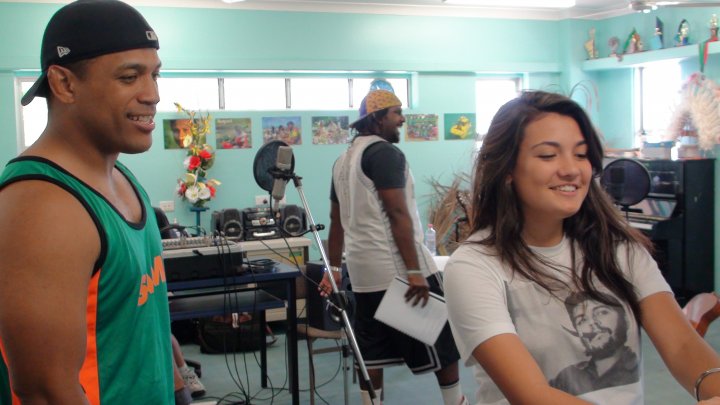 Aaron Fa'aoso and Tullei Eli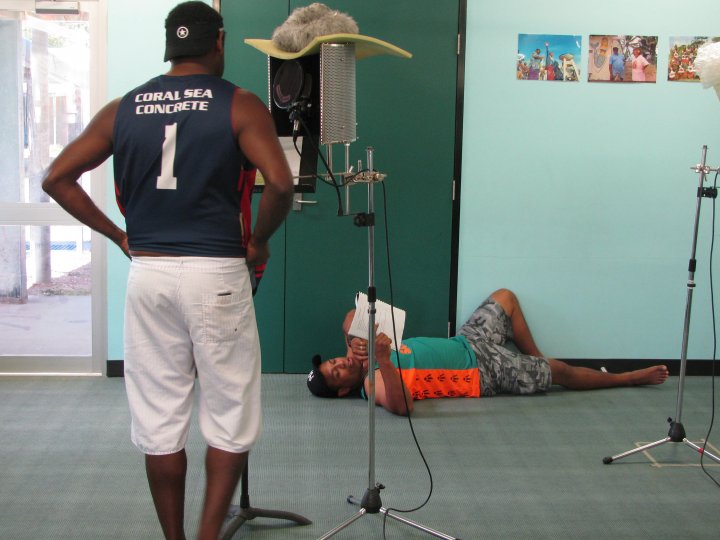 Jimi Bani (standing) and Aaron Fa'aoso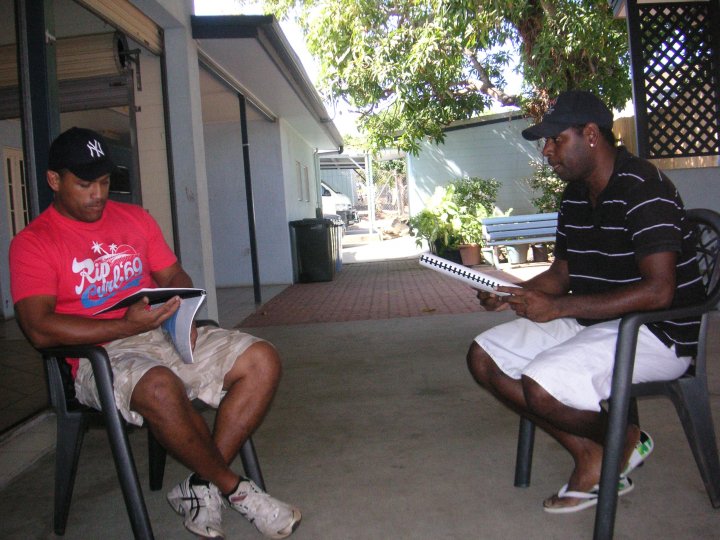 Aaron Fa'aoso and Jimi Bani
Videos
Several videos of the characters talking to camera have also been posted on You Tube. You can view them from the following links:
TV news article
Jayson
Harry
Peter
Elise
Lindy
Gretel
Cindy
Billy
The Making Of Kasa Por Yarn
Images
Trip 1: Initial Workshop
| | |
| --- | --- |
| Kids on the beach. This and the following photographs were taken during my first visit to the island in June 2009. | Aaron Fa'aoso |
| Tinny | Tree trunk |
| Sunrise | Looking north |
| Termite mound | Tree |
| Main street | Leaf |
| Flotsam, or possibly jetsam | Flowers |
Trip 2: Auditions and Recording
| | |
| --- | --- |
| Tropical foilage | Tropical foilage |
| Tropical foilage | Tropical foilage |
| Tropical foilage | Northern most point of Australia, Cape York |
| Tropical sunset | Tropical sunset |
| Tropical sunset | Auditions at Injinu Health Centre, Cape York |
| Rhiann Phineasa as Elise and Tullei Eli as Lindy | Mary Mills as Gretel |
| Maudesta Bowie as Cindy | Aaron Fa'aoso as Billy and Jimmy Bani as Harry |
| Charles Passi as Peter, Mary Mills as Gretel, Rhiann Phineasa as Elise and Aaron Fa'aoso as Billy | Aaron Fa'aoso as Billy and Maudesta Bowie as Cindy |
| Patrick Mau (composer) and Aaron Fa'aoso | Rhiann Phineasa as Elise, Danny Bani as Jayson and Tullei Eli as Lindy |
| Simon Luckhurst, Heather Robertson (producer) and Aaron Fa'aoso | Charles Passi, Simon Luckhurst, Aaron Fa'aoso, Heather Robertson and Jimmy Bani |
| Entire cast | Nigel Pegrum in his studio |