Cowboy, Ginger and Specs prepare for battle.

The first casualty of war is the humour...

GINGER: It's come to the crunch

SPECS: We're going to eliminate the threat

COWBOY: The only threat to me has come from generals and arms manufacturers.

SPECS: We're going to hit them right where it hurts.

GINGER: And this time… it's political.
Synopsis
A jar of biscuits we come to know and love march off to war...
Credits
Vocal characterisations by Hugh de Vaney, Sean McInnes, Melvin J. Montalban and Stef Dawson.
Production Company: Left of Centaur
Written, produced and directed by Simon Luckhurst
Budget
Total: around $600. The Pyrotechnics were about $300, I spent about the same on other things, Sarah Moss used her camera and Relativity Studios, yet again, provided post production facilities.
Screenings
Short Sited9, Wollongong NSW, 2005.
'The Feeling That You're Being Watched', the Short Sited retrospective, Wollongong NSW, 2006.
Notes on the Film
I was spending some time in a local cafe, the topic of Anzac biscuits at war came up... as you'd expect.
We shot in the foyer of the old Kings Theatre in Thirroul, NSW, which was then scheduled for demolition. It's now called Anita's Theatre and has been saved.
Sarah Moss kindly offered to shoot the film, Dennis Jackson and Claire Perkins gave a hand, as well as Sarah's daughter Matilida and my daughter, Zoe.
I had visions of huge explosions of oatmeal, of crumbs flying through the air... sadly it was not to be. The biscuits were too strong, or rather, they were soft enough to absorb the shock of the explosion. We filled them with increasingly scary amounts of black powder, but to no avail. We had smoke and a loud bang, but not nearly enough total destruction. We came up with the method which you see in the film, which is quite acceptable, just not the biscuity Armageddon of my dreams.
Watch the movie
Images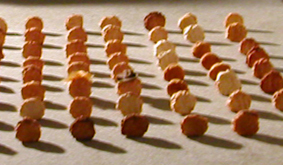 The Dawn Service... lest we forget.