Chris McKay, Simon Luckhurst and Daniel Wilson

A true story...

G.P.W. Meredith: We've got a mission of top priority, commissioned by Sir George Pearce himself. Are you familiar with emus?

George Cooper: Yes, sir, there are a couple near the base.

G.P.W. Meredith: They're in migration, so I hear. Have become quite a nuisance to the local farmers. I'll be taking you and private Andrew Walter to cull their numbers.
Synopsis
In 1932 the Australian government sent Major G.P.W. Meredith and two soldiers up against 20,000 rampaging emus. The emus won...
Credits
Major G.P.W. Meredith: Simon Luckhurst
Corporal George Cooper: Daniel Wilson
Private Andrew Walter: Chris McKay
Nurse: Ellen Wiltshire


Written, produced and directed by Ben Gageler

Notes on the Film
The Great Emu War took place in late 1932 in Western Australia.
Following World War I, about 5000 ex-soldiers were bestowed small farms (aka given Aboriginal land) where they planted wheat, but by October 1932 as many as 20,000 emus were eating the crops and leaving gaps in the fences. A group of the farmers met with the Minister of Defence, Sir George Pearce, and asked for machine guns to be deployed against the rampaging birds. The 'war' that followed was led by Major G.P.W. Meredith of the Seventh Heavy Battery of the Royal Australian Artillery, accompanied by Sergeant S McMurray and Gunner J O'Halloran, armed with two Lewis guns and 10,000 rounds of ammunition.
Rain caused the emus to scatter over a wide area until 2 November 1932. On that the soldiers faced about 50 emus, however they split into smaller groups and ran away once the bullets started to hit, so that only a few were killed. Two days later Meredith created an ambush of more than 1,000 emus, but this time gun jammed after only twelve birds were killed.
It was noted that, 'Each pack seems to have its leader now—a big black plumed bird which stands fully six feet high and keeps watch while his mates carry out their work of destruction and warns them of our approach.'
Meredith mounted one of the guns on a truck, possibly inventing the motorised battalion in the process, but the gunner could not fire because the truck jolted him around too much, and anyway the emus were faster than the vehicle. After the first six days of the war approximately 2500 bullets had resulted in only 50 dead emus. Meredith's report of the mission optimistically noted that none of his men had been hurt.
British ornithologist Dominic Serventy commented: 'The machine-gunners' dreams of point blank fire into serried masses of emus were soon dissipated. The emu command had evidently ordered guerrilla tactics, and its unwieldy army soon split up into innumerable small units that made use of the military equipment uneconomic.'
The soldiers were withdrawn until 12 November, when Meredith was once again sent to the front. By 2 December the soldiers were killing around 100 emus per week, until the end of the war on the 8th.
The army had the prescience to take a Fox Movietone crew with them, and thanks to the God of You Tube, you can watch this here.

>
But who was G.P.W. Meredith? I've searched around trying to find out more, but he's only ever known as G.P.W. I finally came across this photo in the Australian War Memorial archives: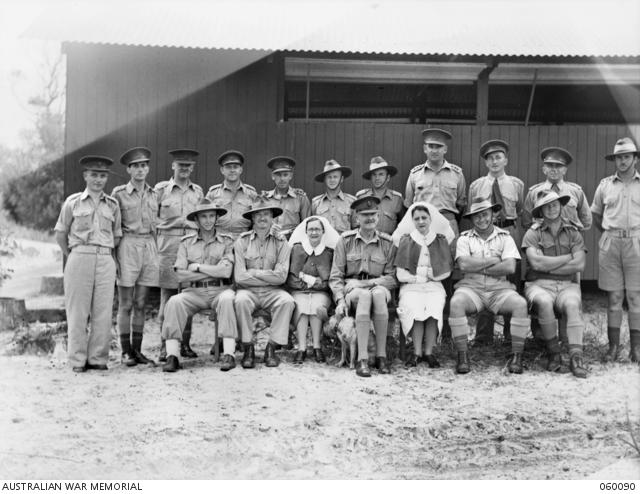 G.P.W. Meredith, front centre between the nurses.
Then I found this entry in the nominal roll here.
It seems that in World War 1 he was a Captain in the 36th Heavy Artillery Battalion, and that his name was Gwynydd Purvis Meredith.
It's a credit to Ben that his film bears more than a passing resemblance to the real history of the Great Emu War, complete with torrential rain and a machine gun that kept jamming.
Watch a rough cut of the movie


Images
| | |
| --- | --- |
| Daniel Wilson, Simon Luckhurst and Chris McKay | Chris McKay, Simon Luckhurst and Daniel Wilson |
| Daniel Wilson, Simon Luckhurst and Chris McKay | Simon Luckhurst, Ellen Wiltshire and Daniel Wilson |
| Ben Gageler and Simon Luckhurst | Uncredited extra |